Discount Carrier Bags - it's what we do!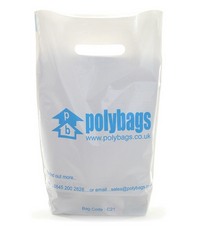 If you're looking for top quality carrier bags at great wholesale prices, Discount Carrier Bags is the website for you!
We specialise in producing printed carrier bags complete with your own logo or design, and a massive range of off-the-shelf carriers, available at the lowest prices you'll find online.
Get a quote on personalised carriers in just 60 seconds with our simple online form. No waiting around for an email or someone to get back to you - just enter a few details about the bags that you want and we'll give you a quote that's instant, 24 hours a day, seven days a week!
We love to keep things simple, so we've streamlined our printed carrier bags service to get straight down to what you need while keeping our costs right down.
All of our bags are the popular patch handle carriers - made from higher quality polythene for a smoother, more substantial feel and a glossy, professional look - while we offer just five sizes of bags - mini, small, standard, premium and large - with a handy size guide to help you choose.
So all we need from you is just five simple bits of information: how many bags you want, what size bag, what colour bag, how many colours your design contains and how many sides of the bag you want to print on (choose the same or a different design on both sides at no extra cost!).
We offer high- or low-volume print runs with a minimum order of just 1,000 bags - perfect for conferences, trade shows or short-term retail promotions.
We've thought of everything and cut back to just what you need, meaning we can offer you first class printed carrier bags at discount prices. If you want to look the bees-knees and stand out from the crowd, then order from us today and you won't regret it!